Daily View Devotions
A Source for: * Sunday School Lessons * New Testament Devotionals * Sermon Ideas * Bible Studies *
The Daily View is a five day-a-week devotion. Read one KJV chapter each day and learn something from what was read. It is also an ideal source for Sunday school lessons for adults, teens, and sermon ideas.
HEAR the Daily View Devotions at Daily View Devotions.


Daily Devotion of Psalm 41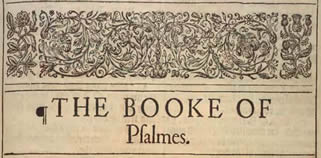 Daily Nugget:
The unsaved world tries all kinds of ways to be happy.  Many believe they will be satisfied if they fill their lives with friends, money, leisure, hobbies, popularity, or many other things. However, most find out that those gathered objects, involvements, or relationships do not give them more peace, joy, or fulfillment than they had initially.  Any gratification people may get is only temporary.
David reveals an important way for the believer to have joy and satisfaction.  His recommendation is to get one's mind off themselves and direct their efforts to meet the needs of others.  The leader of Israel learned that meeting the needs of those that had little or needed help was rewarded by God for selflessness.  He discovered it is "… more blessed to give than to receive". (Acts 20:35)
"… Blessed is he that considereth the poor: the LORD will deliver him in time of trouble." Psalm 41:1
King David experienced many blessings because he helped the weak in their time of need. He learned when he met the needs of others that:
God delivered him in his "time of trouble."  (Psalm 41:1)
God "preserved him" and kept him alive (Psalm 41:2).
God blessed and favored him (Psalm 41:2).
God protected him (Psalm 41:2).
God healed him from sickness (Psalm 41:3).
One should not put others before themselves to "get" from God.  That type of heart has selfish roots for "helping" others and will not deceive Him. He knows our motivations and the real reasons we do what we do.
Those that sincerely value others, often above themselves, will find they will have great value to the Lord.  He will bless them for their generosity in meeting the needs of others. 
This entire world would also be blessed, and it may even be contagious if more people would get their minds and priorities off of themselves.  Society would surely be changed if others' goals were to help others!
Today's Thoughts:
J — Jesus
O — Others
Y — Yourself
"I have noticed that the most miserable, unhappy people are those that only think of themselves and ignore the needs of others and the cries for help around them.  Others, others, others: should be our concern." — B. B.
Words to Understand:
Blessed: happy, favored highly
Languishing: sickness
Poor: weak, needy
Requite: make a payment, give something back
Today's Reading:
Psalm 41
1 To the chief Musician, A Psalm of David. Blessed is he that considereth the poor: the LORD will deliver him in time of trouble.
2 The LORD will preserve him, and keep him alive; and he shall be blessed upon the earth: and thou wilt not deliver him unto the will of his enemies.
3 The LORD will strengthen him upon the bed of languishing: thou wilt make all his bed in his sickness.
4 I said, LORD, be merciful unto me: heal my soul; for I have sinned against thee.
5 ¶ Mine enemies speak evil of me, When shall he die, and his name perish?
6 And if he come to see me, he speaketh vanity: his heart gathereth iniquity to itself; when he goeth abroad, he telleth it.
7 All that hate me whisper together against me: against me do they devise my hurt.
8 An evil disease, say they, cleaveth fast unto him: and now that he lieth he shall rise up no more.
9 Yea, mine own familiar friend, in whom I trusted, which did eat of my bread, hath lifted up his heel against me.
10 But thou, O LORD, be merciful unto me, and raise me up, that I may requite them.
11 By this I know that thou favourest me, because mine enemy doth not triumph over me.
12 And as for me, thou upholdest me in mine integrity, and settest me before thy face for ever.
13 Blessed be the LORD God of Israel from everlasting, and to everlasting. Amen, and Amen.