Daily View Devotions
A Source for: * Sunday School Lessons * New Testament Devotionals * Sermon Ideas * Bible Studies *
The Daily View is a five day-a-week devotion. Read one KJV chapter each day and learn something from what was read. It is also an ideal source for Sunday school lessons for adults, teens, and sermon ideas.
HEAR the Daily View Devotions at Daily View Devotions.

Daily Devotion of Psalm 125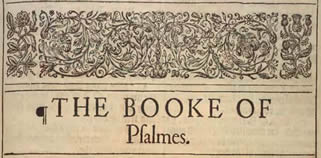 Daily Nugget:
"As the mountains are round about Jerusalem, so the LORD is round about his people from henceforth even for ever." Psalm 125:2
As the pilgrims journeyed to Jerusalem, they sang many hymns.  Psalm 125 was sung as a reminder that wherever His people were, they were forever surrounded by God's protective hand.
Today's Christians can also have the same comfort and security.  Wherever the believer goes, God is nearby.  In theology, this doctrine is recognized as "omnipresence." This teaching is that God is everywhere at the same time.
Although God's omnipresence is taught in the Old Testament, verses in the New Testament show how the ability of God still applies to today's believers.  We read that:
God promised never to leave His own.  To always be with believers, God must be where we are, and we are at different places all over the globe.
"Let your conversation be without covetousness; and be content with such things as ye have: for he hath said, I will never leave thee, nor forsake thee." Heb. 13:5
"That they should seek the Lord, if haply they might feel after him, and find him, though he be not far from every one of us: 28 For in him we live, and move, and have our being; as certain also of your own poets have said, For we are also his offspring." Acts 17:27
"One God and Father of all, who is above all, and through all, and in you all." Eph. 4:6
"Neither is there any creature that is not manifest in his sight: but all things are naked and opened unto the eyes of him with whom we have to do." Heb. 4:13
God promises to be with groups as little as two if they are assembled in His name, as Christians are.  To be with small groups and with individuals shows God is in many places simultaneously.
"Again I say unto you, That if two of you shall agree on earth as touching any thing that they shall ask, it shall be done for them of my Father which is in heaven.  20 For where two or three are gathered together in my name, there am I in the midst of them." Mat. 18:19
God promises to be with His own even when the last dispensation [how God deals with people at a particular time of history] on this Earth occurs.
"Teaching them to observe all things whatsoever I have commanded you: and, lo, I am with you alway, even unto the end of the world. Amen." Mat. 28:20
The believer is never alone!  One cannot hide from Him nor be hidden from God's watchful eye.  How safe we are under God's omnipresent gaze.
Today's Thought:
"I heard the story of a man, a blasphemer, profane, an atheist who was converted singularly by a sinful action of his.  He had written on a paper, "God is nowhere," and ordered his child to read it, for he would make him an atheist too.  The child read, "God is nowhere as 'God is now here.'" It was a truth instead of a lie, and the arrow pierced the man's own heart, and soon, he was saved."  — Spurgeon
Today's Reading:
Psalm 125
1 A Song of degrees. They that trust in the LORD shall be as mount Zion, which cannot be removed, but abideth for ever.
2 As the mountains are round about Jerusalem, so the LORD is round about his people from henceforth even for ever.
3 For the rod of the wicked shall not rest upon the lot of the righteous; lest the righteous put forth their hands unto iniquity.
4  Do good, O LORD, unto those that be good, and to them that are upright in their hearts.
5 As for such as turn aside unto their crooked ways, the LORD shall lead them forth with the workers of iniquity: but peace shall be upon Israel.