Daily View Devotional
A Source for: * Sunday School Lessons * New Testament Devotionals * Sermon Ideas * Bible Studies *
The Daily View is a five day-a-week devotional. Read one KJV chapter each day and learn something from what is read. It is also an ideal source for Sunday school lessons for adults, teens, and sermon ideas.
Daily Devotion of Psalm 110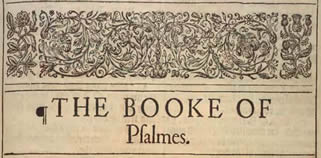 Daily Nugget:
"The fear of the LORD is the beginning of wisdom: a good understanding have all they that do his commandments: his praise endureth for ever." Psalm 111:10
When the first part of Psalm 111:10 is quoted, many get indignant. "What kind of God is He that we should fear him?" is a common reply.
I do not back myself in a corner and shiver and shake when a coral snake comes my way.  However, I fear what could happen if he is angered and threatened by me.  It would be stupidity not to fear such a venomous creature. I do my best to keep my distance from that deadly reptile.
When there is a raging fire close to me, I do not break out in a cold sweat and cry when I see it's damaging tongues of flame.  However, I do fear the damage a fire can do.  I have great respect for anything that can harm and fear what it can do.
Likewise, it is common sense to fear God Almighty.  He is powerful.  He created all we see in six days. The God of creation also controls all around us: the weather, our food supplies, and other necessities we need for survival. He can change our life in the twinkling of an eye.
It is also that God that sees all we do, will remember those deeds, and one day will judge every person on this Earth. For the unsaved, it will be He who judges them for a frightening eternity. He should be feared, and with that respect, one should do all he can to please and obey Him.
"For it is written, As I live, saith the Lord, every knee shall bow to me, and every tongue shall confess to God. 12 So then every one of us shall give account of himself to God." Romans 14:11-12
He is God.  He should be highly reverenced, respected, and trusted.  With that thinking and understanding in our life, we will not be like the unsaved who guess and "wing it" through life.
Fearing God is the first step in being wise.  God is the Creator.  He made and allows all to happen that we see and experience. Learning from His Word and His guidance will give His followers the wisdom that will make them understand and live this life differently. 
Today's Thought:
"In good men, the fear of God is a holy awe or reverence of God and his laws, which springs from a just view and real love of the divine character, leading the subjects of it to hate and shun everything that can offend such a holy being, and inclining them to aim at perfect obedience." — Noah Webster, 1828
Words to Understand:
Fear: reverence; respect
Today's Reading:
Psalm 111
1  Praise ye the LORD. I will praise the LORD with my whole heart, in the assembly of the upright, and in the congregation.
2 The works of the LORD are great, sought out of all them that have pleasure therein.
3 His work is honourable and glorious: and his righteousness endureth for ever.
4 He hath made his wonderful works to be remembered: the LORD is gracious and full of compassion.
5 He hath given meat unto them that fear him: he will ever be mindful of his covenant.
6 ¶ He hath shewed his people the power of his works, that he may give them the heritage of the heathen.
7 The works of his hands are verity and judgment; all his commandments are sure.
8 They stand fast for ever and ever, and are done in truth and uprightness.
9 He sent redemption unto his people: he hath commanded his covenant for ever: holy and reverend is his name.
10 The fear of the LORD is the beginning of wisdom: a good understanding have all they that do his commandments: his praise endureth for ever.
To read other chapters and books, go to the drop-down box at the top of the page.