Daily View Devotions
A Source for: * Sunday School Lessons * New Testament Devotionals * Sermon Ideas * Bible Studies *
The Daily View is a five day-a-week devotional. Read one KJV chapter each day and learn something from what was read. It is also an ideal source for Sunday school lessons for adults, teens, and sermon ideas.
HEAR the Daily View Devotions at Daily View Devotions.                             
Daily Devotion in Psalm 57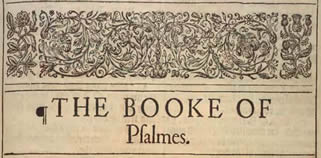 Daily Nugget:
"My heart is fixed, O God, my heart is fixed: I will sing and give praise." Psalm 57:7
Psalm 57 reflects David's gratefulness for God's deliverance from the angry hands of King Saul (I Sam. 22-24).  However, the leader's trust, expressed in Psalm 57:7, should also be the character of every Christian.  That trait should be "steadfastness," a determination to go forward when uncertainty and fear loom ahead.
When being chased by the enemy, King Saul, David's heart was fixed.  He knew it was all under God's control, even as uncertain and fearful as his future was. He knew somehow he would be delivered. David was steadfast in his trust and faith in the Lord.
A Christian needs the same steadfast faith as did David in what is faced.  When the doctor gives a fearful prognosis, one should not doubt God.  Nor should one shake his fist and blame his heavenly Father, whose will and way for that person may be carrying out. 
If a job is lost and the fear of financial failure seems imminent, God is still good, and He will work it out to His glory and one's benefit.  If a move seems inevitable and being in a new neighborhood and surroundings raises many unknown "what if's," God is still on His throne.  
One's faith and trust should not waiver. Reliance on the leadership of a loving God will keep one strong in times of doubt and uncertainty.
Being secure and firm in one's convictions and trusting God's promises will guide one through unknown tomorrows. Fear not!  It will be alright.  God will work it all out, as He has done many times in one's past. 
A secure and anchored Christian will survive and prosper even through a frightening future.  When all is bleak and uncertain, one's heart will not surrender to the circumstances.  He will ride over the storm-tossed waves and arrive safely where and when God wants him.  All the while, his heart will be encouraged, and he will still sing praises to the one that will get him through the scary future.
Today's Thought:
"None can believe how powerful prayer is and what it is able to affect, except those who have learned it by experience." — Martin Luther
Words to Understand:
Altaschith: "destroy not"
Michtam: poem
Today's Reading:
Psalm 57
1 To the chief Musician, Altaschith, Michtam of David, when he fled from Saul in the cave. Be merciful unto me, O God, be merciful unto me: for my soul trusteth in thee: yea, in the shadow of thy wings will I make my refuge, until these calamities be overpast.
2 I will cry unto God most high; unto God that performeth all things for me.
3 He shall send from heaven, and save me from the reproach of him that would swallow me up. Selah. God shall send forth his mercy and his truth.
4 My soul is among lions: and I lie even among them that are set on fire, even the sons of men, whose teeth are spears and arrows, and their tongue a sharp sword.
5 Be thou exalted, O God, above the heavens; let thy glory be above all the earth.
6 They have prepared a net for my steps; my soul is bowed down: they have digged a pit before me, into the midst whereof they are fallen themselves. Selah.
7 ¶ My heart is fixed, O God, my heart is fixed: I will sing and give praise.
8 Awake up, my glory; awake, psaltery and harp: I myself will awake early.
9 I will praise thee, O Lord, among the people: I will sing unto thee among the nations.
10 For thy mercy is great unto the heavens, and thy truth unto the clouds.
11 Be thou exalted, O God, above the heavens: let thy glory be above all the earth.