Daily View Devotional
A Source for: * Sunday School Lessons * New Testament Devotionals * Sermon Ideas * Bible Studies *
The Daily View is a five day-a-week devotional of the New Testament. It is also an ideal source for Sunday school lessons for adults, teens, and sermon ideas. Read one chapter of the New Testament each day and learn something that is taught in that chapter.
Daily Devotional in Matthew 15
Daily Nugget:
3 But he answered and said unto them, Why do ye also transgress the commandment of God by your tradition?
 7 Ye hypocrites, well did Esaias prophesy of you, saying,
 8 This people draweth nigh unto me with their mouth, and honoureth me with their lips; but their heart is far from me.
 9 But in vain they do worship me, teaching for doctrines the commandments of men.
In Matthew, we see one of the many accounts of Jesus battling a force that gave him the most trouble while He walked this earth.  It was not a crowd of sacrifice-offering pagans, a force of Ashtoreth-bowing Canaanites,  or sun-worshipping Bel worshippers.  This force was the one that ultimately participated in His death.  This dangerous force were the "worshippers" of God.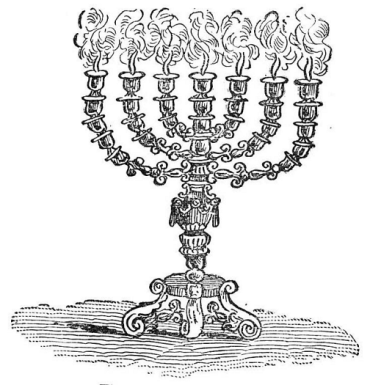 Immediately, one is aghast.  How could a group of God-fearing people become God's Son's worst enemy? They were constantly questioning, doubting, and criticizing Jesus, because they were not of God. Yes, they read their Torah (the first five books of the Bible), followed many of the Jewish laws, and often attended temple worship.  However, they worshipped God as a "habit" and a tradition only (vss. 3, 6, 9).  Their hearts were not committed to living for and serving God, and they were hard and dead to the real worship to God.  They were worshippers of God in name only! Many times Jesus rebuked these false worshippers as hypocrites and venoumous "vipers".
Today, the enemy of God is not much different than it was then.  Today there are many man-made, unbiblical religions operating under the name of "Christian".  These modern institutions are also "… teaching for doctrines the commandmets of men." Some of their false doctrines and practices include:
Altered Bibles to reinforce godless doctrines.  All modern Bibles, (excepting the King James version), change doctrines to either fit the religion that uses the perversion, or to remove a teaching that the authors do not believe in.
Church covenants and constitutions that they allow to have more authority than the Bible.
"Religious" laws that supercede what God's word teaches.  These include the Koran, catechisms, Book of Morman, and Jehovah Witnesses Watchtower literature.
Traditions that people follow "religiously", without question. Their traditions become a  "We've-always-done-it-that-way-before" religion.
As in Jesus' day, false religion is just around the nearest corner.  They may have the label "Church" on their plaque out front, and even have a version of the Holy Bible that is preached from. If their hearts are not converted, their real purpose is not to teach all the Bible has to say, but rather to teach what they think is the right way to "worship" God.  They, too, can be the enemies of God.  Today, some of the most damage done to Christianity is done by liberal, worshippers of a different god than is described and commanded to be worshipped in the Bible.  In many cases these false "churches" have only a form of godliness, without any power from God!
"Having a form of godliness, but denying the power thereof: from such turn away." II Timothy 3:5

Today's Reading: Matthew 15
 1  Then came to Jesus scribes and Pharisees, which were of Jerusalem, saying,
2 Why do thy disciples transgress the tradition of the elders? for they wash not their hands when they eat bread.
3 But he answered and said unto them, Why do ye also transgress the commandment of God by your tradition?
4 For God commanded, saying, Honour thy father and mother: and, He that curseth father or mother, let him die the death.
5 But ye say, Whosoever shall say to his father or his mother, It is a gift, by whatsoever thou mightest be profited by me;
6 And honour not his father or his mother, he shall be free. Thus have ye made the commandment of God of none effect by your tradition.
7 Ye hypocrites, well did Esaias prophesy of you, saying,
8 This people draweth nigh unto me with their mouth, and honoureth me with their lips; but their heart is far from me.
9 But in vain they do worship me, teaching for doctrines the commandments of men.
10 ¶ And he called the multitude, and said unto them, Hear, and understand:
11 Not that which goeth into the mouth defileth a man; but that which cometh out of the mouth, this defileth a man.
12 Then came his disciples, and said unto him, Knowest thou that the Pharisees were offended, after they heard this saying?
13 But he answered and said, Every plant, which my heavenly Father hath not planted, shall be rooted up.
14 Let them alone: they be blind leaders of the blind. And if the blind lead the blind, both shall fall into the ditch.
15 Then answered Peter and said unto him, Declare unto us this parable.
16 And Jesus said, Are ye also yet without understanding?
17 Do not ye yet understand, that whatsoever entereth in at the mouth goeth into the belly, and is cast out into the draught?
18 But those things which proceed out of the mouth come forth from the heart; and they defile the man.
19 For out of the heart proceed evil thoughts, murders, adulteries, fornications, thefts, false witness, blasphemies:
20 These are the things which defile a man: but to eat with unwashen hands defileth not a man.
21 ¶ Then Jesus went thence, and departed into the coasts of Tyre and Sidon.
22 And, behold, a woman of Canaan came out of the same coasts, and cried unto him, saying, Have mercy on me, O Lord, thou Son of David; my daughter is grievously vexed with a devil.
23 But he answered her not a word. And his disciples came and besought him, saying, Send her away; for she crieth after us.
24 But he answered and said, I am not sent but unto the lost sheep of the house of Israel.
25 Then came she and worshipped him, saying, Lord, help me.
26 But he answered and said, It is not meet to take the children's bread, and to cast it to dogs.
27 And she said, Truth, Lord: yet the dogs eat of the crumbs which fall from their masters' table.
28 Then Jesus answered and said unto her, O woman, great is thy faith: be it unto thee even as thou wilt. And her daughter was made whole from that very hour.
29 ¶ And Jesus departed from thence, and came nigh unto the sea of Galilee; and went up into a mountain, and sat down there.
30 And great multitudes came unto him, having with them those that were lame, blind, dumb, maimed, and many others, and cast them down at Jesus' feet; and he healed them:
31 Insomuch that the multitude wondered, when they saw the dumb to speak, the maimed to be whole, the lame to walk, and the blind to see: and they glorified the God of Israel.
32 Then Jesus called his disciples unto him, and said, I have compassion on the multitude, because they continue with me now three days, and have nothing to eat: and I will not send them away fasting, lest they faint in the way.
33 And his disciples say unto him, Whence should we have so much bread in the wilderness, as to fill so great a multitude?
34 And Jesus saith unto them, How many loaves have ye? And they said, Seven, and a few little fishes.
35 And he commanded the multitude to sit down on the ground.
36 And he took the seven loaves and the fishes, and gave thanks, and brake them, and gave to his disciples, and the disciples to the multitude.
37 And they did all eat, and were filled: and they took up of the broken meat that was left seven baskets full.
38 And they that did eat were four thousand men, beside women and children.
39 And he sent away the multitude, and took ship, and came into the coasts of Magdala.
(KJV)
To read other chapters and books, go to the drop-down box at the top of the page.